The job of a tourist guide always sounds to be interesting and fun. Yes, it might be trend-setting but not that easy. Roaming different places every day, interacting with new groups, new languages, new tradition and many more need hard work too. Though the job may look cool in today's office culture but it is not. I won't burn your desires to be a tourist guide, rather you will surely love this profession, if understood the work culture and polish yourself for being one. You need to work hard for this too. The job might seem boring sometimes as you will have to visit some similar fixed places and to narrate same stories almost everyday. But this will differentiate with the new ideas and questions of a new tourist everytime.
Tourist Guide is the only person who can 'make or break' the image of any place. Its the job of the guide to creatively beautify even the most boring lane or place. So with the magic in words, we can do magic in tourism scope of any place. But, this does not provide guides the freedom to narrate fake stories. The era of social media and google can judge your informations within minutes.
Sorry for showing it not much easy but will not shatter your dreams. To become a tourist guide is of course fun and full of experiences. Hence, we try to provide the help you need to be the tourist guide in India. Here are answers to your questions on the way to how to become a tour guide in India.
Qualifications required to become tourist guide:
The job of tourist guide is very challenging and needs preparation with personality development. Training courses provide you all the knowledge about sites, historical monuments and destinations with the facts the places hold. Also, the course includes practical knowledge to enter the market. While there are many institutes and universities which run certificate and diploma courses for tourist guide. But most prominent guides are to own the license approved by Ministry of Tourism or by the state tourism department for the local or regional sites, to work officially and permanently as a tourist guide.
The government provides the license to regional level tourist guide and also runs Regional Level Guide Training Program (RLGTP). These programs and training sessions are conducted under the guidance of Indian Institute of Tourism & Travel Management (IITTM) or other government recognized institutes. The course trains the person about the knowledge of places and regions, management ethics for the group, aspects of handling challenges and knowledge of policies.
Also, currently the Ministry of Tourism of India has introduced a certificate facilitator online course program which is a minor version of catching the dreams to become a tour guide. You can check the details of the course on thier official website.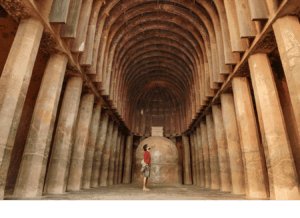 Eligibility to apply for the tourist guide courses:
Fluency in English speaking, graduates in any discipline. The degree and diploma in travel, hospitality and archaeology is an add-on. Also, preference is given to those with the knowledge of any foreign language. The course requires the minimum age of 20 years.
A written test is conducted for selection, which comprises:
General Knowledge
History
Knowledge of tourist destinations, monuments, sites and tourism policies.
Though currently all the government licensed courses and selections have been kept on stay. Followed up with many reasons. Being no vacancy to new program introductions. None of the reason is yet openly announced, neither informed with future aspects and planning. Though, the state government notify their schedules on their particular state wise tourism websites and other social media platforms. Also, you can keep yourself updated with the newspapers.
But the job and work is still on. Tourism has been continuously increasing in India with the growth and job prospects in the market. Tour guides are thus a big requirement currently. Private travel companies and vendors are hiring personal trained, privately certified guides or story-tellers, at present.
List of Colleges/ Institutes with Tour Guide Courses:
IATA/UFTAA Career Development Programs- Various Cities
Trade Wings- Mumbai
Delhi University- New Delhi
Sophia Polytechnic- Mumbai
Kurukshetra University- Haryana
Sita Worlds Travels- Mumbai and New Delhi
Agra University- Agra
Sri Venkateshwara University- Chitoor
Banaras Hindu University- Varanasi
Skyline Business School- New Delhi
Bangalore University- Bangalore
Himachal University- Shimla
University of Madras- Chennai
Pune University- Pune
University of Calcutta- Kolkata
Mumbai University- Mumbai
Goa University- Panaji
Sita Academy- New Delhi
Personal Characteristics required for tourist guide:
Not only knowledge works every time, the job of tourist guide demands more than that. This follows:
Pleasing, positive personality.
Good communication skills with a narrative way of explaining things.
Always updated and keen to know more.
Extrovert and friendly nature.
The ability of problem-solving and helpful nature.
Physically fit and must have basic knowledge of first- aid.
Also Read: Working: Creative ways to save money while traveling
Other aspects of tourism jobs:
If anyhow you fail to become a tourist guide, do not bother. If your heart connects to tourism and you need to be in touch with traveling, your door does not close after tourist guide. There are many more options for jobs in the field of tourism.
Here is a quick look at the list of tourism jobs:
Travel Agent:
Do not only travel alone, make the world travel with you. You can be the middleman. Arrange the travel facilities like airlines, hotels, car rentals, etc. to the public on behalf of service providers. Know in detail about it here, Travel Agent: Job Roles, Career Prospects and Skills.
Tour Operator:
Take challenges and earn experience in the travel field. Come out as an entrepreneur. Become a tour operator. Own the services for the betterment of tourists.
Hospitality:
It is a large field of the carrier in itself. Try your hand out in hotels and restaurants.

Airlines:
If not only land, you want to conquer the skies then this is your world. There are many job opportunities in airlines too.
These are the few options that will keep you in the world of travel, keeping you in touch with your desire of traveling from time to time. Stay tuned to know more and let us know your queries, further in such fields. We answer to them too.
Review: Adventure course at Nehru Institute of Mountaineering- A must on your list.