Your destination could be far but pocket-friendly travel is not far now. Here to my traveling fellows, no need to wait for discounts and sales. Stop wasting your time waiting and checking for good fake deals from various websites and sellers. Get up smarter and look up for these few tips. Because your vacationing need not stop. So If you want to know how to book cheap flights and hotels you are at the right place.
• Stop yelling! Your search should be your new secret.
Always when you search for flights, your cookies and server details are automatically saved. This result in higher price every next time you will search for the same. They use the scary marketing method to make you book early. Do not panic and act smartly as them. Always use private browsing or incognito mode while you are searching for flight booking through Chrome or Safari. Open a new incognito window for all your searches. Do not let the sellers know about Skyscannert your repetitive searches and get the best prices at your time.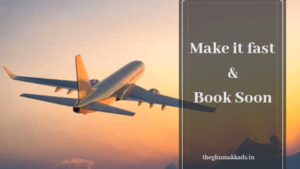 • Make it fast. Book soon.
This could be irony to my first point. But yes, book early to get best prices. Booking in advance will always result in good discounted rates. Book your hotels and flights as soon as you confirm with your travel plans.
• Book in the mid weekdays.
You will always get a difference in airfares and hotel rates when you search and book on Tuesdays, Wednesdays while that too on Saturdays and Sundays. And the same goes for the dates of traveling and staying too. Thus you need to look for the correct time of booking and traveling. Flexibility with days can leave you lot of money.
• Try booking hotel directly.
The mid working websites may give you great deals but for sure must be earning some profits for themselves. Thus, to save your pocket, directly search and contact to hotels for booking. Ask for best discounts and pay directly. Even try the direct website booking in case of flights too.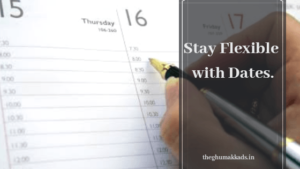 • Stay flexible with dates.
Always search for the rates with flexible dates. Or look for the rates selecting the dates of the whole month in preference. This will help you in comparing and searching for best prices.
• Compare before booking.
Comparison before final booking is a must. Go and search through various websites and confirm. There are now websites like Trivago and Skyscanner which makes comparison easier. Look for all deals together and compare for the best one according to your choices.
Also If you are looking for some other ways to save money while traveling, you should definitely read our post Working: Creative ways to save money while traveling
Happy Wandering!!