Nothing can touch a little kid's heart more than the divine touch of a drop of beauty. And that drop of beauty which shines so charmingly in this vast expanse of India's terrain is Kashmir. True, I was a little kid when I traveled to Kashmir, excited for a four or five-day trip, which would assemble for me loads of memories, but never did I realize that even years later, the same heap of memories would stay afresh in my mind, mesmerizing me even more and more. That's the captivating charm of Kashmir, beholding your breath and taking you far along, away from the agonizing miseries of this world.
So here is day-wise experience of my 5 day long trip to Kashmir
Day 1: Delights of Dal Lake
After an hour-long flight from Jammu, we reached Srinagar. The first sight of Dal Lake was quite appealing. More than the deluge of water along its banks, what captured my attention was the dozens of houseboats which held their head high amidst the gush of that splendid lake. I remember shouting those exceptional houseboat names shining on each one's roof. But what seemed more fascinating was the joyful Shikara ride which would actually take me to those heavens in water.  Things seemed fun – the boat ride was exactly a joyride. But what grabs my attention now is- how peaceful it was, the exquisite view of the mountains on one side, whilst you are sitting in the lap of the magnificent lake. Even loneliness would seem a perfect companion when you are bounded by this picturesque. Down below, I could notice a marsh, and growing in it was a gorgeous pink lotus. I had never seen a lotus in my life.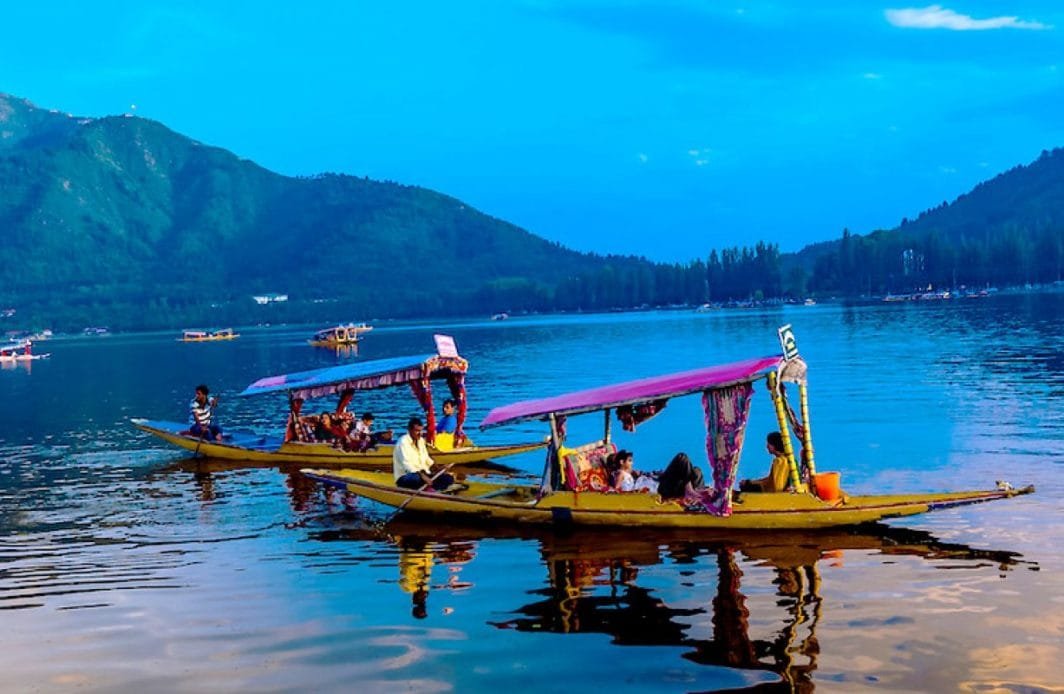 Our houseboat was a warm place. With beautiful engravings on the walls of our bedroom and living room, it was a treat to live in the midst of the vast lake. Especially at night, when lights sparkle around the mountains and you can sit on your balcony to gaze at the beguiling sights. Our caretaker Abdul was kind and caring. He would serve our meals on time and clean our rooms during the day. He also took us on a trip around the lake. It was indeed a soothing experience. It seemed these people have raised a whole society in water- from markets to houses and what not! Yet they have their share of struggles and the tales of dark mysteries related to this era old lake, inflicted pain in our heart. The beauty has survived, and it will keep on surviving, with such courageous and intellectual citizens.
Day 2: The Mughal Formations to Kashmir
God carved it this way so that the title JANNAT was apt for it. Maybe that's why even our ancient Mughal emperors did not leave without the indications of their love for Kashmir. Proofs reside in Mughal gardens like Shalimar Bagh, Chashmeshahi, which harbor lively tinted flowers and swiftly cascading springs. We spent much of our time, sitting and adoring the beautiful gardens of Nishat Bagh. Also meaning the 'Garden of Joyhour-long these gardens are situated very close to the Dal Lake. These gardens were planned in such a way so that they can fit the water source conditions.
The layout of these twelve terraces is unique and signifying the meticulousness of the Mughals. Similarly, Chashmeshahi, which was a gift from Emperor Shah Jahan to his son Dara Shikoh, was built around the fresh-water spring and its topography is majestic. Shalimar gardens are the largest of all the Mughal gardens in Srinagar.
Later, we explored the local markets around Shankaracharya temple, which boasted of intricate Pashmina shawls, sold by the natives of this area.
Day 3: Glorious Gulmarg
Gulmarg is a beautiful hill station which lies in the heart of Kashmir valley, around two hours from Srinagar. We hired a taxi and reached the hour-long mountains of Gulmarg. I would have loved viewing heavy snowfall, but maybe luck wanted me to enjoy the green expanse which was just everywhere. Thanks to the Gulmarg Gondola which runs a few feet high and gives you the best moments to cherish. We had a great time landing close to the snow-covered peaks. Where we enjoyed activities like sledging on the patches of snow, along with a hot cup of coffee to warm up our chilled senses. We could not visit the Apharwat peak, which lies in the second phase of the Gulmarg Gondola and is a premier ski resort. However, skiing activities are open mainly from December to February.
Glimpse of Pahalgam

Glimpse of Gulmarg Gondola
On our way back, we stopped at Pahalgam to sit by the Lidder Lake. The river is surrounded by meadows, majestic hills & tall pine trees. Sitting by this river, I got absorbed in the solace inundating it. The water was too cold to touch, yet it was a wonderful adventure climbing on the rocks and getting clicked with the breathtaking view.  It was indeed great place for camping and photography!
Day 4: Stunning Sonamarg
We drove to Sonamarg, around 3 hours away from Srinagar which is also called the 'Meadow of Gold'. It gives rise to some great Himalayan glaciers, which shine from a distance. On our way, we also crossed Nallah Singh, a major tributary of river Jhelum.
It was time to explore the peaks of Sonamarg on the back of a horse. As a kid, the very fear of getting up on those dark brown horses named 'Badal' or 'Ramesh' smacked a big NO out of me. Deep gorges below, and a whole line of these 'Badals' walking up in procession, looked good but scary. Now I realize!! Sitting there on the top of a horse, looking below to see Gondola mountains merge with the green panorama would have been pleasurable.   
Gondola, it would have been captured in my heart for a lifetime! The view of the Thajiwas glacier is hour-long must watch, when you reach Sonamarg.
I explored other options. I got myself pictured with the adorable furry sheep, that ran about in their vast territory! Do get pictured with them in the vicinity of their freedom, and if they aren't infuriated when you touch them, you could get a lovely masterpiece for your homes!
We had snacks at some local shops which heralded the mountains. If going back home wasn't on our agenda for the next day, I would have never left this heavenly place for a few more days!
Day 5: Adieu to heavenly days
It was time to bid Later, to Srinagar, Dal Lake, Shankaracharya temple(visible from our houseboat) and our caring houseboat keeper! For we had a flight back to Jammu, followed by our drive back to my city in Punjab.
Given a chance, I would love one more trip to Kashmir in my lifetime. As now I have a list of 5 reasons to visit Kashmir. I know it would welcome me lovingly with those moments of immense peace once again.