There are a lot of questions spread across the forums regarding the available Courses in Travel and Tourism industry in India, which made me come up with this post.
Tourism and Travel are such words which catch a quick attention and interest nowadays. The generation today find it to be very cool if connected with travel, adventure & backpacking. If such things cheer you up too, then you can look up for a career in the field of tourism and travel. Field of tourism may look glamorous but requires a great sense of hard work, patience and challenges.
Life has become very competitive in the present era. To achieve benefits and success in future, you need to be well prepared with every aspect. Thus here we will help you with all the guidance you may need to make a career and look for Courses in Travel and Tourism.
There is a direct proportion between demand and scope of any field. As the demand increases the scope of earning and employment increases. Same is what we can see with the growth of travel and tourism sector. India is building scope in the field of tourism and hospitality. This is the reason for rising employment in travel and tourism sector.
List of courses in travel and tourism you can choose from:
Bachelor in Tourism Studies
Bachelor in Tourism & Travel Management
BA in Hospitality and Tourism Management
BBA in Travel and Tourism Management
BSc in Hospitality and Tourism Management
BVoc in Hospitality and Tourism
Masters in Tourism and Travel Management
MBA in Tourism and Travel
Masters in Hospitality and Tourism Management
MA in Tourism and Travel Management
MSc in Tourism and Hospitality Management
Masters in Tourism Administration
PG Diploma in Tourism and Travel Management
PG Diploma in Hospitality and Tourism Management
Diploma in Tourist Guide
Also, there are many certificate courses offered by many public and private institutes for the specialization in particular adventure activities. Out of them, Adventure Course is a bliss to show your love for mountains & other land-based adventure. It's a 15-day package of activities and training. If you are one of those adventure freaks, you should definitely read my review of Adventure course at NIM. There are similar courses on water and air-based adventure activities too. Ministry of Tourism promotes all types of adventure activities and has various centers for such courses.
There are also many generalized courses for Hotel Management, Culinary Arts, Aviation, etc.

Travel and Tourism course description
Every course provides knowledge of the core subjects & basic functioning of the field. Just the level upgrades according to the course. Some basic core subjects in travel & tourism are:
Principles of Hospitality and Tourism
Tourism Policies and Laws
Transport Management
Air Ticketing
Tourism Marketing and Management
History, Culture and Heritage of India and World
Travel Agency/ Tour Operators Training
Tour Guide/ Escorts Training and Skills
PR and Communication Skills
Best university for travel and tourism in India:
Although the list is long. I will sort out few good institutes and colleges in the list which provide success in placements too.
Also, read Nomadic Foot's article on how you can travel and earn money.
Job opportunities in Tourism & Travel
Tourism and travel is a service providing profession. It is a vast sector and connects to many other sectors such as transports, hotels airlines etc. Therefore it demands smart and polished individual personality. It has jobs in both government and the private sector. Ministry of Tourism also looks for certified and trained professionals for the growth of tourism in India. The starting salary scope might not be much high as compared to other fields, but it provides good opportunities and higher packages with time and experiences. Few of the travel and tourism jobs are as below: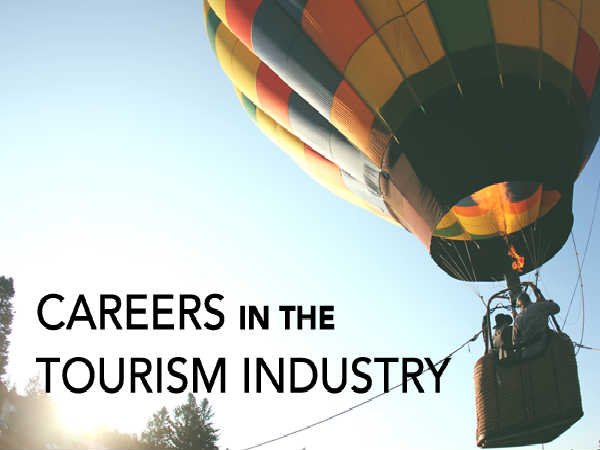 List of Jobs in Travel and Tourism Industry:
Travel Jobs in Hospitality Sector:
Hospitality is another vast field which has many job opportunities for professionals from Travel & tourism industry such as:
Hotel Operations
Front Office
Food & Beverages
Accounting
Sales/ Maintenance/ PR
Security
Airlines Sector:
There is a good scope for professionals from Travel & Tourism industry in Airlines sector.
Ground Staffs (traffic assistance, booking, etc.)
In-flight Staffs (air hostess, pilots, etc.)
Every field of work demands hard work, loyalty and interest. If your heart beats for traveling then you can surely look up for a career in tourism sector irrespective of your gender, age, etc.
If you are looking out for job opportunities, your one stop help can be at Jooble.
India is growing, grow yourself! Happy Traveling!
<a href="https://www.bloglovin.com/blog/19530081/?claim=7m54nqnsb9a">Follow my blog with Bloglovin</a>