Mountains are the special love nature gave to us. From pleasant weather to stunning views it has many things to offer. And I caught up one of my experience in the laps of those pretty mountains on my trek to Hampta Pass. Hampta Pass Trek is a crossover trek from Manali to Spiti covering the streams, rocks, and beautiful flower blooming views. Pass is a route through a mountain range or a ridge. Thus it has a navigable route.
Trekking gives energy to my soul. It feels like a walk in paradise. Challenging self for reaching the heights and walking will never leave you disappointed because of the panoramic view you will get while moving. Those five days trip let me realize there is always so much we are left to feel. Nature has a lot to give us. Pick your chance to grasp those surprises of nature. Also beautiful flower valleys make it no less than valley of flowers in Uttarakhand.
Hampta Pass Trek Assistance
Hampta Pass Trek is quite difficult to do it by own. One will need some guidance and proper belongings for the trek and survival as there are no options on the way. I did my Hampta Pass trek with a Delhi based trekking company Renok Adventures LLP and certified being a successful trekker for that 14,100ft. visit in around INR 9,500 but there are many other options you can choose from. Or you can take your group of experience buddies with you. Reach Manali and drive till Jobra and trek further with assistance. Camp stops are naturally done at Chika, Balu ka gera, Chatru etc. enroute.
Hampta Pass Weather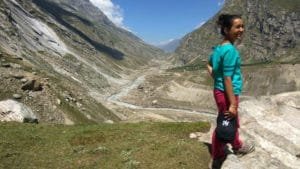 Situated between Kullu and Lahaul Valley, you can visit for this trek from June to mid-October and rest of the year it is difficult due to very cold weather and snow sheets covering the way. Also, this is one of the treks which are open for the large time period in India as compared to other treks like Rupin Pass, Goechala, etc. Weather at hampta pass route is pleasant with the support of sun while your walk and chill breezy winter at nights. This will help you feel cool when all the other part of India will be hot.
What I realized is nature is the reason we find ourselves better, give some time to it and to self. Later I did few more treks but hampta pass trek is a package for all what I experienced till now. Get some time and rejuvenate yourself with the epitome of nature.
Also read Tungnath-Chandrashila Trek: Pack up for the peak
(This story was first published in Lonely Planet Magazine India)