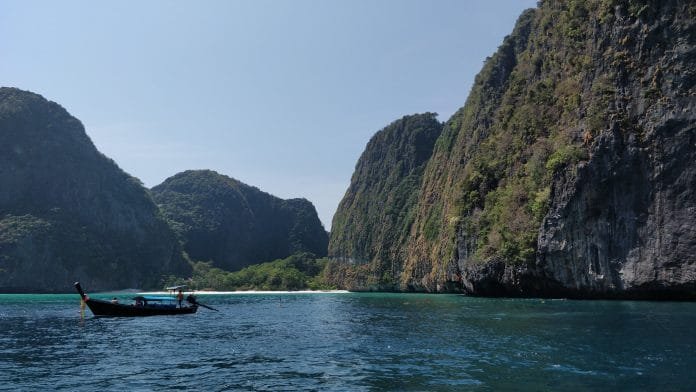 Situated on the west coast of Southern Thailand, Krabi is an extremely beautiful beach, diving, island hopping, and rock climbing tourism destination.
If you love white sandy beaches, crystal clear water, and are into outdoor sports activities, this is the perfect holiday spot for you!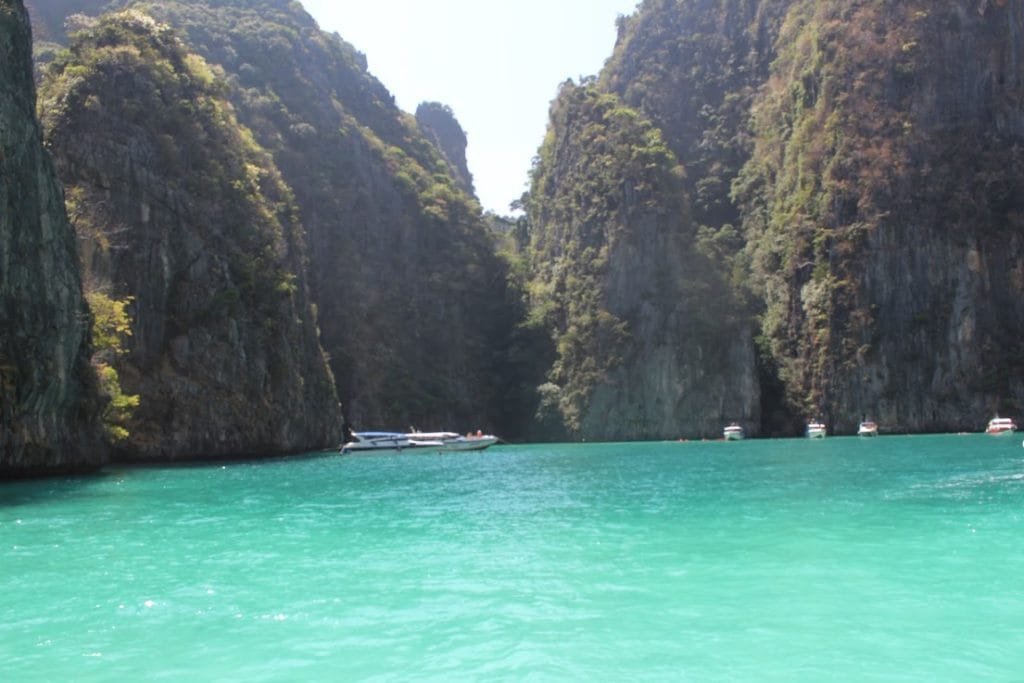 WHERE TO STAY IN KRABI?
The beach town of Ao Nang is a good place to stay while exploring the province of Krabi. The place has plenty of accommodation options from backpackers hostels to luxury hotels that are all walking distance to Ao Nang beach. It also offers a plethora of options for dining, including seafood and international cuisine.
Railay Beach and Phra Nang Beach provide limited hotel options but remember that these beaches are only accessible by boat, which will limit your options for finding food at night but gives you first access to the beach in the morning.
HOW TO GET TO KRABI?
You can get a flight from Bangalore, Mumbai, and Delhi to Bangkok in Thailand, Singapore or Kuala Lumpur in Malaysia. From those airports, there are connecting direct flights to the Krabi International Airport (airport code: KBV) that is located 30 minutes from the beach town of Ao Nang whereas, from Phuket airport, Ao Nang is a 2-hour drive.
From the airport, take a pre-arranged transport or hop on the shared taxi known as "songthaew" to your Ao Nang hotel. Thai Airways runs a shuttle bus for only USD 3, though if they are fully booked or if you prefer more comfort, you can get a taxi into town for only USD 16.
HOW TO TRAVEL IN KRABI?
Renting a motorbike is an ideal and inexpensive method of transportation. It allows you the freedom to explore the local attractions when and where you wish. Your hotel can help you with giving contacts regarding the same.
To visit local towns and neighboring tourist attractions, you can hop on "songthaew". They are very cheap and pick up from almost anywhere in the Krabi area and along the beaches served by road.
If traveling by sea, rent a long tail boat that serves as water taxis. They generally run from 07:30 hrs to 17:30 hrs every day. For longer sea journeys you can use the local ferries that run to and from all major locations.
You can use the app GRAB to book cabs.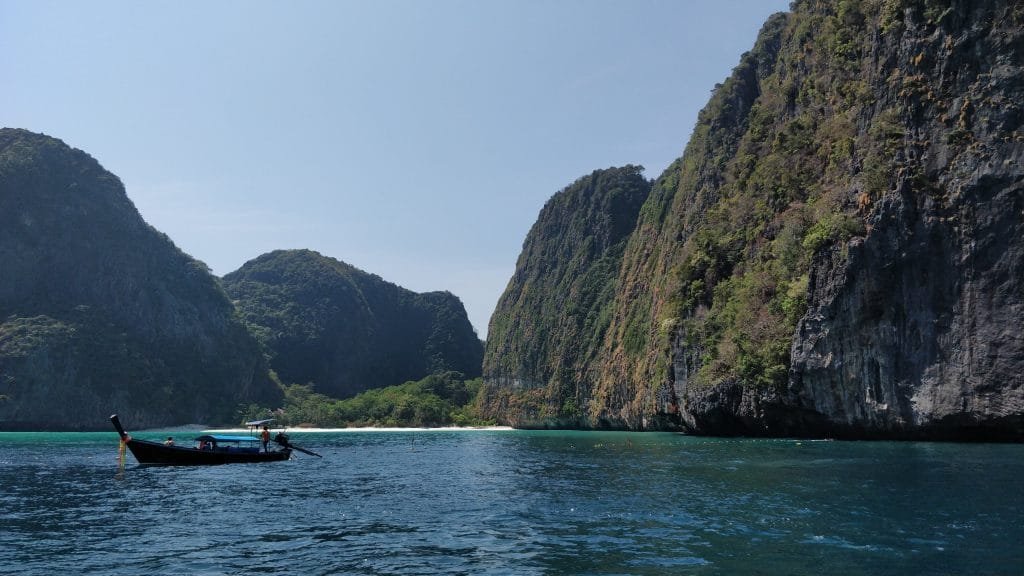 WHAT TO DO IN KRABI?
Krabi is a world of postcard-perfect islands, lively little beach towns, and jagged limestone cliffs covered in unspoiled rainforest. Ahead, seven Krabi experiences that are absolutely essential.
1. ISLAND HOPPING
Hop Pop Tour

Island Visits
With more than 200 islands in this part of Thailand, travelers are spoilt for choices here. Most are little more than spindly rock towers shooting out of the Andaman Sea, but some are jungle-clad idylls with emerald lagoons and gorgeous beaches.
The most popular way to see the islands is by signing up for the 7 Island tour, Phi Phi Island tour and the 4 Island tour, which are usually made available by the hotels and resort. You can also rent a private boat.
2. NIGHT MARKETS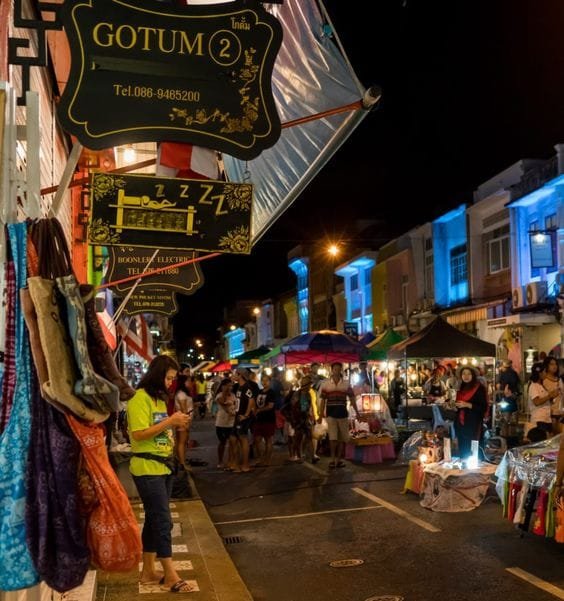 On Friday, Saturday, or Sunday nights, Krabi Town's night market comes alive with street-food stalls, souvenir sellers, and live performers. You can get everything from handmade jewelry to tie-dye garments, pad Thai to fried crickets, and coconut ice cream to cocktails. To jazz up the atmosphere, singers, saxophonists, guitarists, and dancers are performing on stages and in the streets.
3. SEA AND LAND ADVENTURES
The best way to explore the Krabi coast's mangrove swamps and sea caves is by kayaking and paddle-boarding. Krabi also offers numerous fantastic diving and snorkeling spots with stunning coral reefs and rich sea life for those keen to engage in water activities.
Far from limiting yourself to the water, why not go for Hiking and cycling? Head into the rainforests to discover waterfalls, thermal springs, and caves. Phanom Bencha National Park is a great hiking location.
4. ROCK CLIMBING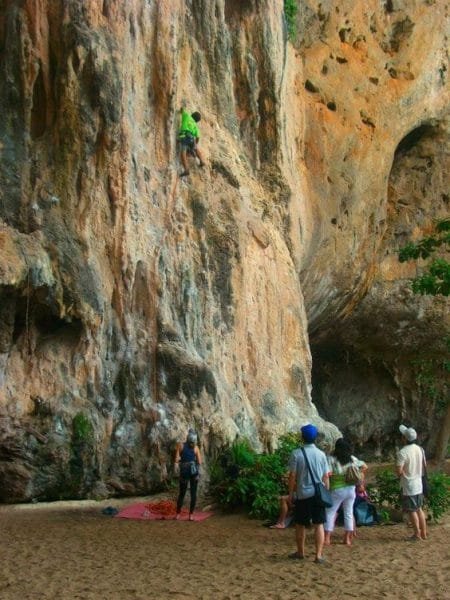 Thrill-seekers have a treat waiting here, as Railay in Krabi is one of the best rock climbing destinations in the world. Try to book a rock climbing excursion ahead of time.
5. DIPPING IN THE EMERALD POOL
About an hour's drive from Krabi town is Thung Teao Forest Natural Park which is home for many natural spring-water pools — that are almost otherworldly shades of green and turquoise.
The famous Blue pool or pond is fresh and hot with the water supplied from natural streams coming from the hill. The cool thing about this place is that when the water's temperature changes, the watercolor goes from light green to turquoise! Here swimming isn't allowed but photos are, and the other one is Emerald Pool, a dazzling crystal-clear oasis that's pleasant for swimming. Go early in the day or on weekdays before the crowds take over!
Close from here are the hot water springs that form an unusual cascading waterfall that pours into a stream below!
6. LOCAL SIGHTSEEING
All the beaches, water bodies and islands aside, Krabi boasts of many inland tourist attractions.
One of Thailand's natural wonders and certainly worth a visit is this warren of caves, famously known as Tiger Caves, that sits within the jungle and house many monks that live and worship here. The caves can be explored and you will find many icons and relics to take a look at. And at a climb of 1,237 steps, which is no small task, is the 'footprint of the Buddha' and you are rewarded with 360 – degree views of the Andaman Sea and the beautiful islands that fall within it.
The other main temple in Krabi is Wat Kaew Korawaram. This is a new building and to some, resembles a white wedding cake!
7. NIGHTLIFE
Ao Nang Beach, though not the prettiest beach in the area but if you are looking for some nightlife and a lively atmosphere this is a good place to start.
Euro-style bars and cáfes, night clubs and the standard Thai karaoke bars give the town a great atmosphere after the sun goes down.
WHAT TO KEEP IN MIND WHILE IN KRABI?
Make your itinerary beforehand.
Get the local sim-card at the airport.
Check out the cuisine before you go. If you are a vegetarian, you might have difficulty finding food at Kuala Lumpur airport.
Wear comfortable shoes.
While going to Emerald Pool, make sure to wear a bathing suit and bring towels as there are no changing rooms.
Try wearing clothes that will cover your body because the sun can get too harsh and the sunscreen is not enough!
While visiting the temples, avoid wearing tank tops, crop tops, shorts, etc. They are not allowed!
Compare the prices of things before buying. You might want to make sure if you get better things at better prices in India.
The budget of the trip might go up to 40-50k if you stay in a decent 3-star hotel for 3-4 days.
If you are a lover of wild beaches and spectacular landscapes and want a place to relax or play in charmingly natural settings, away from any concerns, in a world not over-complicated by the trappings of modern society, Krabi is the place for you!