Brought up as the Cultural Capital of India from UNESCO, Varanasi is the holy city merrily singing, chanting, and holy praying. Although being the oldest living city, Varanasi is nurturing and growing every day. This city is a maze of alleys. Those narrow confused paths have some magic of lights which attracts tourists. Might sound ironic but people come to attain peace, in this crowded and busy city. Kashi might be the only city, where death is also celebrated. Living for these long years, the city has found itself in many sacred beliefs.
The city geographically lies in the northern plains making itself in the state of Uttar Pradesh of India. Flowing beside the holy river Ganges. The city attains the fun of all weather. But the best time to visit Varanasi is from October-March with the pleasant cold weather, January being the coldest.
Top attractions in Varanasi
Places might be same but activities are enough to be done. The city holds the secret of excitement while you explore. Here are all 'what you can do' list of Varanasi:
Sunrise at Ghats with Boatride.
'The Gold on Ganga' is what the sight looks. From the darkness comes the beautiful rays of strength and beauty. Also, it is accompanied with chants of Morning Ganga Aarti. Not less to pure the souls within. Also, take a boat ride to know more about the cities and the ghats. Your early wake up will never be a disappointment in Varanasi.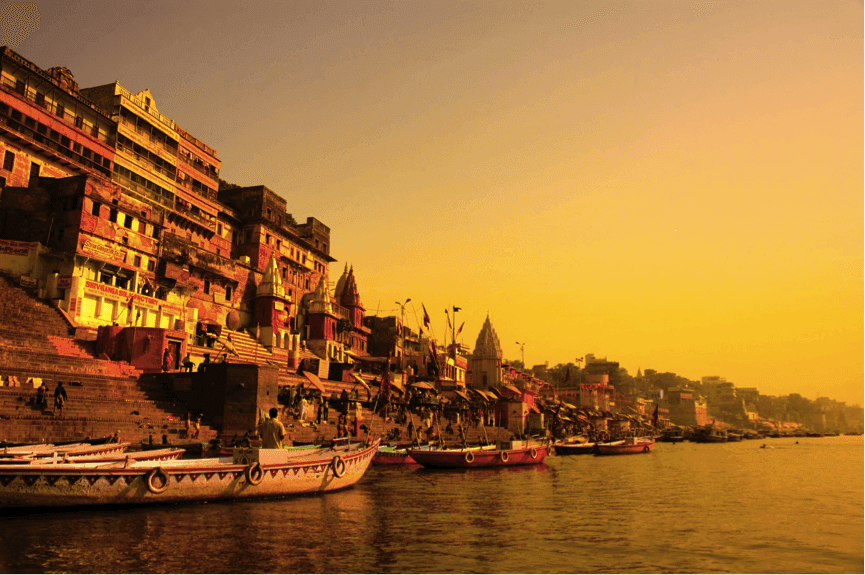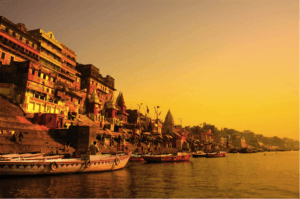 Also Read: 8 Destinations to visit for a good start of your next new year
Attend Subeh-e-Banaras at Assi.
Sunrise views are followed with yoga blended in soothing classical music at Assi Ghat. Your body and mind will attain the piousness of eternity. This is what makes the city lively. You don't need to swing on hard music whole night. Rather an hour or two in serenity is magical.
Eat Out at Every Street.
Accompany the spiciest of snacks with the sweeter side of Kashi. Mornings with puri-sabzi with jalebis, fried idlis dipped in chutneys with lassi. Chat evenings or go for binge eating samosas and longlattas. The food culture here is another strong reason to love the city.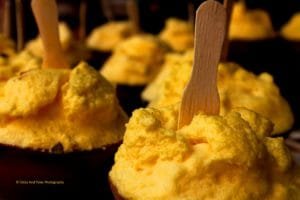 Get Holy Visiting the Main Temples.
Although the city has temples after every two steps, then it has some you would like to visit. Kashi Vishwanath Temple, Kathwala Temple, Monkey Temple or Tulsi Manas Mandir. Crowded with deities will let you know the faith in God people holds here.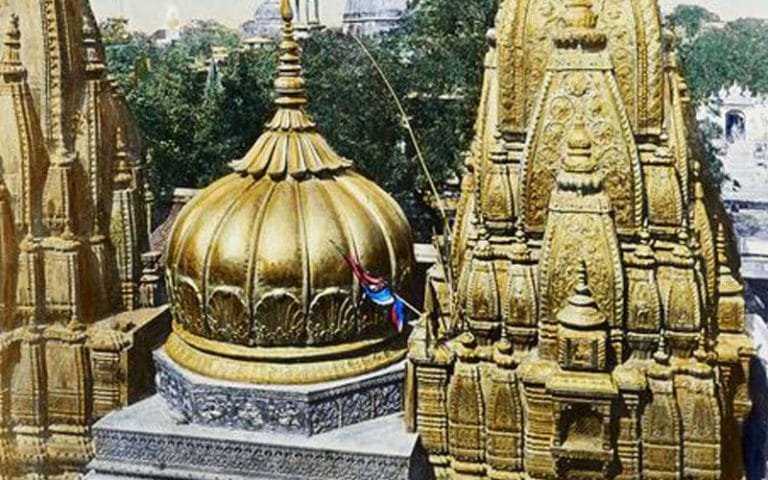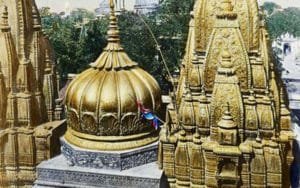 Also Read: Create Your Trek Story at Hampta Pass
A Day at Sarnath.
Get a whole day free with Lord Buddha. Coming out from the loud, crowded Hindu temples, spend a day in the silence of Buddha. Sarnath is the place where Lord Buddha gave his first preaching. Visit the place, look at the Stupa, know more at the museum there and check for the other good Buddha Temples designed beautifully all in the Sarnath area.
Know the Kingdom at Ramnagar Fort.
How the Indian Kings and Queens lived? If this is your question then check out the Ramnagar Fort. An alluring structure of history is worth a view today.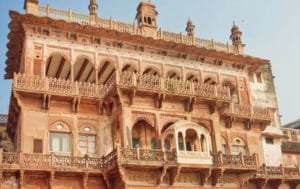 Also Read: Mumbai Street Food: 8 best things to eat in Mumbai
Walk at Ghats.
Eighty or more ghats need time to know. Each ghat has its importance and stories. Take a walk through the ghats. Stop and make time at Burning Ghats- Manikarnika or Harishchandra. Get an answer to many questions of your life viewing those bodies turning to ashes. You will get meaning to your life through ghat walks.
Evening Ganga Aarti and Ghat Sandhya.
Evening Ganga Aarti is other magnificent attraction. Lighting lamps (diyas) of different sizes with chants and claps surround the whole environment. It brightens the darkness and prepares you for the night to hold. Followed with any of your evenings for Ghat Sandhya at Reva Ghat. If done with classical music then look for classical dance performances at this ghat. Revive with the beauty of expressions.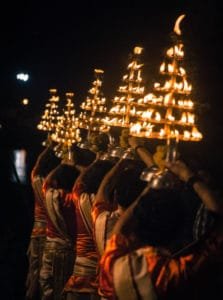 Also Read: How to become tourist guide in India?
Behold Sometime for Bharat Mata Mandir.
Unlike all the other temples of Varanasi, this temple does not have any idol of Gods and Goddesses. Rather it depicts the love for the country India. It has a big map of country India made up of marble. Representing the hills, mountains, rivers, plains, coasts & oceans. This temple was built to admire the country India and present it as the god figure.
Shop some Handicrafts of Varanasi.
Weaving colorful silk sarees, wooden bangles, thread & jute weaved bags or some pretty silk stoles. Or maybe some wooden souvenirs. Walk through the alleys, look for its processing, know about the lives of labors and pick your favorite collections to take back with you.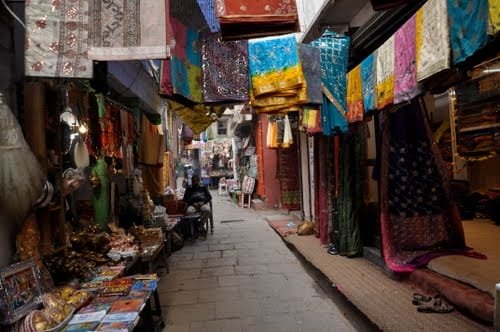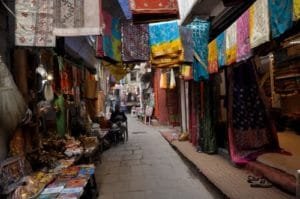 Also Read: Working: Creative ways to save money while traveling
How to Reach Varanasi
Varanasi Airport, Lal Bahadur Shastri Airport is connected to major Indian cities. Also now many International destinations have reached directly to the Varanasi Airport.
The city is well accessible through railways and has three railway stations which are connected with various trains from all part of the country. The three stations are Varanasi Junction, Kashi & Maduadih. Also, visitors can look for trains to/from Mughalsarai, which is around 10km from the main city.
Also, Varanasi is well connected to major road networks. It has good public and private road transport connections.
Also Read: 10 Places in India to visit for your Bachelor Trip
Where to Stay in Varanasi
Varanasi being the eye of the attraction of tourists has options of stays in all category. You may get classiest of stays with good locations and services to cheapest stays at homestays and guesthouses in the city. You can get good options to stay near ghats and markets. Common areas of stay for tourists are in Godowlia, Assi or Kedar Ghat Regions. And then mostly good 3* and above categories of hotels are in Cantonment area with all the best services. You can also use services like OYO Rooms to get luxury rooms at a very low price.
Places to visit near Varanasi
Chunar Fort and Nearby Waterfalls
Another beauty of history, Chunar Fort has been the attraction of people from years back. Even rulers have been admiring it. Also near to it are many attractive natural waterfalls to refresh you.
Also Read: Tips, Advice & Plannings for your first trip
Allahabad
The city is known for the confluence of two holiest rivers of India, making it the king of pilgrimage centers according to the Hindu Mythology. It is best to visit during the Kumbh Fare, happens once in 12 years in the city.
Bodh Gaya
Bodh Gaya is the place where Lord Buddha gained enlightenment under the Mahabodhi Tree. It is a sacred place. Also, visit Dungeshwari and Barbara Caves.
Tips to get good experience exploring Kashi
Although Varanasi is a magic to attract in itself but to enrich your experiences in the city, here are some help:
The city is more exciting to explore if you do it on a cycle- rickshaw, tuk-tuk (battery rickshaw) or on foot.
While walking through the Ghats you will commonly look for the cremations, watch it there and capture in your mind. Because capturing it in a camera is not allowed there.
Negotiate for the rates with the service providers/sellers in the city. It might save you some penny.
Be careful with the bulls/ cows and their shit too. You can find any of it on the streets just as you walking.
Keep your valuables safe.
Be careful when you are trying 'bhaang'. Also, drugs are not legal in any part of India. Thus be safe and avoid such activities.
Hygiene and safety are still lacking in the city. Stay safe and careful. Also, avoid exploring the city late at night.
Varanasi is best to visit it during festivals. Some festivals which will enhance your experience of visiting the city are- Dev Deepawali, Holi, Mahashivratri, Naag Panchami.
Also Read: 5 Best Water Sports Destination in India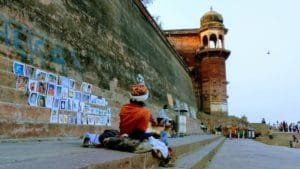 Come, visit and know the city with all the names given to it. Kashi, Banaras, Varanasi whichever you like. It has all the colors of culture, ethnicity and spirituality. Get lost in the alleys and in the magic of the city.